I'm back on the track. Well, mostly at least.
On Saturday, after much massaging, stretching, therapeutic prodding and resting, I embarked on a gentle 5km run through Kensington Garden and Hyde Park; my first in almost a full month.
It was a stunning morning, golden leaves delicately tumbling from the turning trees that flank Kensington Palace Gardens, a slight chill in the air but still plenty of sunshine, and that beautiful silence that ensues when London's tourist season fades into October.
I tread lightly, consciously engaging my gluts, so as not to exert too much pressure on my still ailing knees and hips, and veer onto soft paths and grassy tracks wherever possible.
I feel like a small child learning to walk, each step measured and slightly wobbly, but becoming increasingly steady as I progress. And as I absorb my surroundings, I realise that one of the things I have missed most during my running hiatus, is the encounters with other runners, of all shapes sizes, colours, ages and abilities. All united by our love of running - or at the very least, our ability to motivate ourselves to lace up our trainers once in a while.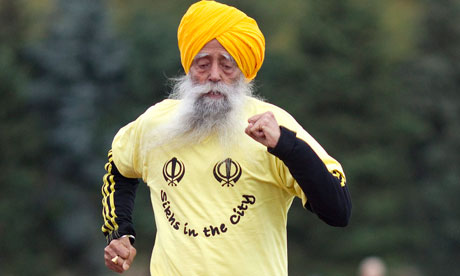 Just before I reach Notting Hill Gate, a trio of girls comes towards me, all clad in sports bras, their golden locks piled high on head and held back with fluorescent bands.
As they shuffle along, they gossip and giggle in high pitched voices, yoga toned bellies rising and falling rhythmically with each breath. They're the kind who flock to the smoothie bar for wheatgrass shots following their stretches, and later discuss Pilates classes while sipping detoxifying nettle and liquorice root tea in an artisan cafe just off Westbourne Grove, clad in hip hugging sweatpants and oversized hoodies.
They have no interest in racing or personal bests, but love being able to say "I went for a run" and if they managed to lap up last night's gossip while doing so, then that's an added bonus.
As I head east along Notting Hill Gate towards Hyde Park, the next incarnation of runner dashes past.
This time, an early-thirties bachelor type - probably a banker, lawyer or insurance broker – pounding the streets to purge from his system the remnants of last night's double vodkas and perhaps that blurry burger. It looked so good at the time.
His pectoral muscles trace through a tight white – and now sweat drenched - vest top and one calf is covered in a tribal tattoo: a gap year souvenir from saving children in Africa.
His shoes are luminous white – indicating that he's a fine weather athlete – and frantic glances at a wrist-worn heart rate monitor indicate that he's not along to enjoy the ride. He has calories to burn, pulse rates to adhere to and, eventually, protein drinks to consume, driven by the vision of a perfect Adonis physique – perhaps, just perhaps, the centre piece of next week's big night out.
As I peel off Notting Hill Gate and enter Kensington Gardens, the crowds of joggers become denser. There's a running club training and dozens of hobby athletes in bright yellow vests push past me.
We're running in opposite directions so I get a chance to see all their faces bob towards me up the track. Some are contorted with pain after a fourth of fifth lap of the park, lactic acid burning and lungs threatening to burst, while others wear relaxed expressions, enjoying the rush of endorphins, the social buzz and the jovial sense of competition.
I pass gaggles of middle-aged women, on the cusp of obesity but laboriously battling the pounds; gangly teenagers hurtling down the track with very limited control of their limbs, and off duty personal trainers, their serious expressions disguised under visors and orange-tinted Oakley sports shades.
By the time I reach the Serpentine lake, I've passed steroid-pumped Barbie dolls and their respective Kens, B-list celebrities hidden behind Jackie-O glasses and almost drowning in oversized sweaters, natural runners with practiced gaits, first-time joggers with awkward hips and pretty much everything in between.
It makes me wonder what people might think of me. Crazy girl singing along to her iPod? Mad women with blindingly pink trainers?

Female in desperate need of a new pair of (not baggy, grey, unflattering) running shorts?
To finish off my comeback run, I head down to the Albert Memorial, and plod along the south side of Kensington Gardens. Just before I hit the 5km mark, I see an old man jogging towards me in the distance sporting red shorts and a yellow running club vest top. He must be nearing 90.
He's frail - can't be much taller than me – and barely moving faster than an average persons' walking pace. I can see he's probably got hundreds of thousands of miles in his knobbly knees, yet the smile on his face shows that every step still brings him a sense of deep, rich satisfaction.
The gap between us closes and, as we move within a few yards of each other, he raises one feeble arm and motions for me to high-five him. His grin is infectious and as my sweaty palm claps into his he yelps, "keep going girl!"
I smile to myself. Yes, if I can be even half as happy, healthy and vivacious as you are at that age, then I think I will follow your advice. Keep running, keep enjoying the beautiful and different faces of the sport, and hopefully, one day, pass a young woman on the south side of Kensington Gardens, clap my hand in to hers, share a beautiful face-splitting smile and encourage her to keep going.
(Image:
100-year old marathon runner Fauja Singh, photographed for The Guardian)